Many people like to dip their toes into trading—they experience it is hard or they make a mistake and give up. It does not require every moment you have to be a great trader. You simply must have the resilience to learn and create the habits of successful traders. You know now many of the pitfalls to avoid and even knowing isn't enough. Many who have read this book will still go out and make these mistakes.
Once you properly answer your "why", you can then become serious about trading. Just saying you're serious, but never really giving it your full attention, will not make it so. You cannot become a successful trader at the life-changing level without accepting the reality of the learning process. Nobody is going to make you successful, you have to do it yourself, but that doesn't mean you shouldn't seek out the necessary support to help you along the way.
Most people go through life hoping for a better financial position. They might even make small moves here and there, trying to change their financial situation. But many times they're afraid of fully committing to a particular move!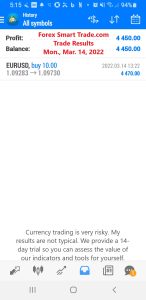 Learn How To Trade Forex
If you'd like to earn extra income trading on the Forex market, consider learning how to currency trade with Forex Smart Trade.   With their super-accurate proprietary trading tools and best-in-the-business, personalized one-on-one training, you'll be successful.  Check out the Forex Smart Trade webinar.  It shows one of their trader's trading and how easy, intuitive, and accurate the tools are.  Or try the Forex Smart Trade 14-day introductory trial for just TEN dollars.