One reminder, steer clear of outrageous claims such as '700% return on profits guaranteed!' or 'Stop losing and start winning by winning 100% of your trades!'
As the old saying goes, 'if it sounds too good to be true, it probably is.'  These companies or individuals pledging instant success with little learning or thought have a scam written all over it.  They're not trying to teach you.  They're trying to convince you of giving up your money to them so they can take it and run!
Think of it this way.  If there's an easy way to get rich, it's already been exploited.  And you finding out about said scheme means someone is likely tricking you.  And they are getting rich off of your efforts.
For example, trading courses making grand gestures such as 'I can make you "X" amount of money per month, just buy my ebook, audiobook, oh and purchase my 5,000 dollar course.' Avoid the guarantees, look for those trying to educate and help you on your journey. In the end, it's up to you to make your own guarantees.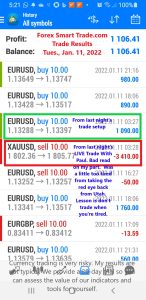 Learn How To Currency Trade Forex
If you'd like to earn extra income trading on the Forex market, consider learning how to currency trade with Forex Smart Trade.   With their super-accurate proprietary trading tools and best-in-the-business, personalized one-on-one training, you'll be successful.  Check out the Forex Smart Trade webinar that shows one of their trader's trading and how easy, intuitive, and accurate the tools are.  Or try the Forex Smart Trade 30-day introductory trial for just TEN dollars.